Female Rider Profiles…
Ella Gillings

Wins: 5 wins from 26 rides
Best Horse: Behind The Scenes, a phenomenal jumper and a tough horse in a finish; though not without his quirks! Never out the first three in our 2015 season, despite returning from a bad tendon injury in 2014. A horse that gave everything he had, and the reason I really got into pointing.
Best Season: 2015 – 3 wins and 4 places all on Behind The Scenes.
Best Course: Penm,,,l.000000shurst numbers wise, though Charing is my favourite to ride round. Had a fantastic winning spin at Charing on Letskeepitsimple for Ian Cobb, and coming down that hill is brilliant fun.
Proudest Moment: Behind The Scenes taking Leading Horse in the South East 2015, and by association myself receiving Leading Lady that season.
Horse for this season: Cloudy Bob. A classy horse in the past, hopefully still some fun to be had with him, but needs the rain.
Tabitha Worsley

Best course and why? Aldington as rode my first winner round there
Best horse and why? Alrafid. Was the first horse I rode and taught me a lot! Still have him now team chasing at the age of 20
Best season: 2016/17 – 14 winners
Last season: Spent most of it injured so only 1 winner
Rides for: Anyone that wants me
How did you get into pointing? Grew up on the hunting field and came through pony club. My mum always trained a few pointers, so started pony racing then all I wanted to do was go pointing.
What the best aspect of the sport? The camaraderie in the changing rooms
Katie Featherstone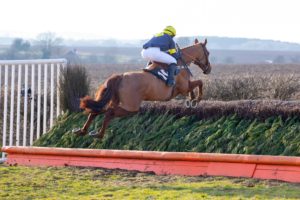 Wins: 0
Best course: Charing
Best horse: Winola
Rides for: Herself, Nicky Featherstone & Connor Gray.
How did you get into Pointing? I got into Pointing through my parents who used to own pointers when I was little.
What's the best aspect of the sport? The best aspect of the sport for me, is that racing a horse is an adrenaline rush I couldn't find in any other sport, team chasing and hunt races and 6ft hedges with the Mid Surrey Farmers Draghounds comes close but there is no better feeling than galloping down to a chase fence at 30mph (as long as the horse is a good jumper!)
Izzie Marshall

Best course: South East – Charing (3 winners)
Best horse: Start Royal (5 winners)
Winners total: 25
Best Season: 11 wins (2nd in the UK national ladies championship behind Gina Ellis) 2017-18
Last Season: 11 wins (2nd in the UK national ladies championship behind Gina Ellis)
Achievements: South East lady Champion 2017-18, National Novice Lady Champion 2016-17, 2nd in the National Lady Championship 2017-18
Rides for: based with Alan Hill, also share the family rides with my brother Charlie for our mum (Charlotte Marshall)
How did I get into pointing: I've grown up hunting, eventing, team chasing and pony racing. I've always loved going pointing and was inevitable I'd have a go!
Best aspect of the sport: Going racing with my friends and family and having a drink afterwards win lose or draw!
Beth Mellish
Best course: Parham/Penshurst
Ride for: Ourselves
Wins: 2
How did I get into pointing? My mum used to have point to pointers and after I finished college I said I'd like to too!
Best part about the sport: The bond between horse and rider and the sportsmanship within the jockeys/trainers/owners
Achievements: I don't know, every season is a good season
Hannah Jones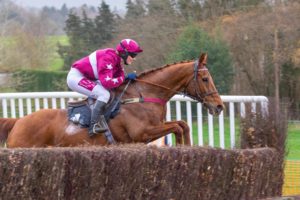 Rides for: I mainly ride my own horses but have ridden for a few other owners in the past.
Wins: I've ridden two winners, Ballybrack Dancer at Penshurst in 2015 and Cada Club at Aldington last season on his second start for us.
Best horse: Ballybrack Dancer. She is special as she was my first winner and was an absolute pleasure to ride. She always gave 100% and jumped like a dream.
How did I get into pointing? I'd always wanted to ride in a ptp and got into the sport working for Libby Lawson in 2013. She helped me buy my first pointer Teenando who ran an incredible 13 times in my first season. I worked for Phil York for two seasons before Will Hickman and I moved back to Kent and started training from my parents in 2016.
Best aspect of the sport? Riding and training winners is what it's all about and you can't beat it. I love to see a horse improve too and see how much they enjoy their racing.
Achievements: I've won the leading lady owner rider trophy in the south East for the past four seasons and hope I can retain it this season.
Our best season was last season: Training three winners in three weekends. Will having two on Lightonthemountain and me with Cada Club
Ellie Vaughan

How did you get into pointing? I started in pony racing with a hunting pony then had a go in a Members race 2 years ago and loved it. I now work full time in racing.
Best horse: Provincial Pride
Rides for: Penny Vaughan
Favourite course: Penshurst
Wins: none as yet but ridden in some good races this season.
Elizabeth Feakes
Why I got into pointing? I have pretty much always wanted to be a jockey growing up and I used to love watching Chris and Jenny Gordon point to pointing. Brought up in a farming and racing family I have always hunted and more recently have whipped in with the Kent and Surrey bloodhounds with my ex racehorse Baggy. I am very lucky to have Nicola Aspell to train my horse and alongside her husband Leighton they both support me on race days.
Outside of racing-  I work as a Building Surveyor for Crowther Overton-Hart and during the summer months I keep fit with rowing in a single scull at Ardingly Rowing Club and compete in local regattas.
Favourite course: Parham has to be my favourite as it was my first ever completion last year! But don't get me wrong I also love Godstone.
Favourite horse: Baggy (Just a Touch) our racing career together was short and unsuccessful – he ran off with me at Black Forest Lodge after I lost a stirrup iron on our first ever run in 2010 and then I fractured my shoulder at Holnicote after losing my stirrup again  he was a demon racing but he got me hooked with the sport what can I say… I  couldn't hold one side of him but taught me so much I owe everything to him!
Gemma Cobb
Wins: 4 wins
Fav course: Parham
Best horse: Master Alf
Got into pointing: Through my family and being lucky enough to pony race when I was younger.
Best aspect of the sport: the atmosphere at point to points is brilliant, competitors tend to support and congratulate each other, win or lose.
Extra info: Intermittently race ridden for 5 seasons and my weight hasn't changed since my first season in 2011, 2 weight cloths are still required. However, still been lucky enough to have had great rides and wins on Master Alf, Letskeepit Simple, and San Jose who gave me a memorable spin managing to win despite being 30lengths adrift with 6 to jump.
Alex Embiricos – ex jockey profile!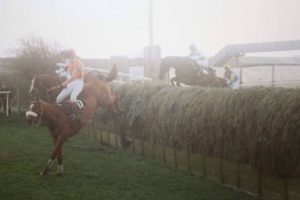 Wins: 55 pointing, 7 under rules, 1 in the States.
Best Rides: Winning in a maiden on a horse that never completed 22 starts. Finishing 6th in the Aintree Foxhunters on Golden Minstrel and 3rd in the Cheltenham Foxhunters on the mighty Placid Man. Others to note Wily Yeoman, Summons, You're Welcome, King Baba… I was very lucky girl and we were the outcasts but so glad to see that now we have a plethora of great jockeys to sock it to the boys… keep kicking!