Taken from the PPORA website (www.ppora.co.uk):
Our May-June Dodson & Horrell PPORA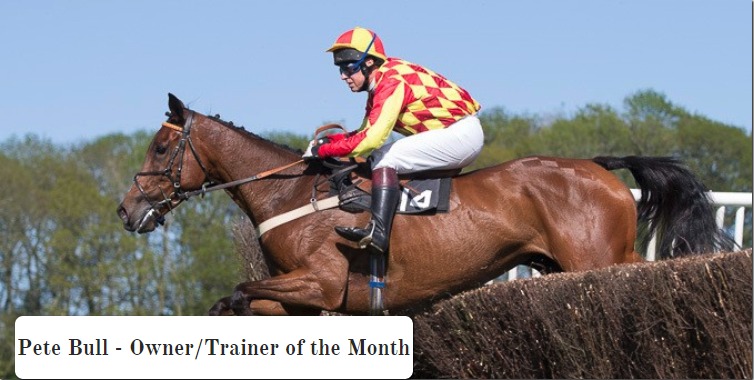 – personifies grassroots Point-to-Pointing.
A former art college student, his profession is illustration and design but he's been a passionate Point to Point  participant for more than 30 years as owner, breeder, trainer and rider.
His first winner Royal William stretches back to 1984, and his most successful horse and jockey partnerships have been Honourable Spider (11 wins in Point to Points and 2 Hunter Chases), trained by his wife Suzy for Matthew Roberts, and his own horse Rightsaidfred who came home in front under Pete in 6 point to points, 2 hunter chases and on 4 further occasions under Rules – as well as winning one apiece for Tony McCoy and Graham Bradley.
At Aldington year Pete rode his 150thwinner – on Margot Fontane an 8 year old mare he bred, owns, trains and rides – it's hard to be more hands on than that, and the landmark success earned him the final Owner-Trainer of the Month Award for this season.  Margot Fontane is fed on Dodson & Horrell horse feed so Pete's prize of 10 bags of feed of his choice should come in handy – there's a bottle of champagne to celebrate with too!
We asked Pete to tell us more
"I wasn't from a horsey background, my grandmother had a few acres and I got to know a couple of friends and started to ride their  ponies.  My parents then bought me a pony – we knew nothing really but in those days you used what you had.  I always wanted to do well and win – and that's what's kept me going – determination.
Through Pony Club I got to know families who were involved in Point to Pointing and started helping out a bit, then when you get the bug that's it isn't it really?  I thought I'd like to have a go at it.   It was 1984 that I rode my first winner, Royal William at Detling, for Hugh Jarvis. He was a printer by trade and had a few horses just for fun. He lived near me and I used to go and help him every morning – he had to go to work early and I had go to work too so  we'd ride out in the dark with head torches, looking back it was crazy.
In my 30s I could start to afford horses of my own, I rode a few winners and gradually outside rides came.  It was hard at that time, there were a lot more jockeys and owner riders, so it took me a long long time to get going but I wouldn't give up I loved it and I carried on and got there in the end!
I've had a few mares over the years, and there was one who was never quite sound and I never quite knew why, she was  well bred so I decided to breed from her and see what happened, Margot was the last of those.  In the beginning I wasn't sure because she was so tiny, but first time out she hacked up, it was a nice surprise really and she's turned out to be the best of the bunch.
I tried her over hurdles and she did ok but not as well as I hoped , so I decided to have some more fun Pointing and she's been very consistent.  She's an amazing little thing I wasn't going to breed any more,  but I probably will breed from her as she's turned out to be a little superstar.
Pointing has been a great part of my life, not least all the friends I've met along the way. Margot's kept me going as a rider because I bred her and I thought "she can win so I'll carry on with her".   I'm 58 next month but I don't feel it, I rode in the Golden Button for the first time this year and was third in that.  I'm still fit, and if I have the ammunition why not? I've got her for next season, and I'm not really going out looking for anything else but if something came along… I also picked up a couple of outside rides this season.  Whilst I still feel fine and have the horses to do what I want to do then I am going to keep on doing it."
Dodson & Horrell are proud to support the monthly Owner Trainer Award which was set up to recognise owner trainers of Point to Point horses who go above and beyond and show a real enthusiasm for this unique sport