Parham hosted the first of their meetings for the season on Saturday where once again the Andrews siblings were hitting the winner's enclosure with a brace for Gina and one victory for Jack over the six races.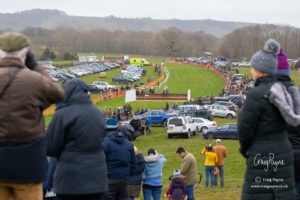 Gina's first victory came in the five runner restricted race in which Classico Dais made all of the running and didn't see a rival winning by a comfortable eight lengths. Her second success came in the following mixed open race on Excitable Island for Nigel Padfield. Gina was content for Excitable Island to follow Knockaderry Flyer and George Gorman for the early part of the race, until heading down the back straight for the final time where they hit the front and looked to have a comfortable lead and victory in sight until Generous Ransom from David Phelan's yard ridden by Jack Andrews mounted a challenge at the penultimate fence. The pair landed side by side at the final fence but it was Excitable Island who managed to find a couple of lengths over Generous Ransom on the run to the winning post.
It was however for trainer David Phelan that Jack Andrews rode the winner of the Conditions race as Indian Chance cruised up beside long time leader Rigadin de Beauchene approaching the last fence and then made little effort to gain a two length advantage before passing the winners post with Rigadin de Beauchene trying to close the gap with no avail.
Although Jack Andrews made his victory look easy, the most impressive win of the day came in the conditions race for veteran and novice riders in which Vivaldi Collonges trained by James Owen in East Anglia with Ben Bromley in the saddle justified his odds of 1/2 crossing the finishing line as his rivals had only just cleared the penultimate fence.
The maiden race attracted good numbers again with eight runners from a possible ten and it saw Charlie Marshall triumph aboard Shanoule Wood for trainer Hannah Clarke from Dorset denying James Owen a training double as Broadwater had to settle for second place.
The hunt members' race saw all eight of its entrant's line up for the starter and at the penultimate fence three horses still had a chance of winning. Nevertheless it was Thomas Junior with Phil York steering who came away the victor for owner / trainer Nigel Benstead with the Gemma Cobb trained pair of Take The Mick and Letskeepit Simple in second and third.